Best Belt Sander in the UK – Buyer's Guide 2023
For most people, sanding is an annoying task. With the best belt sander UK, however, the task will get a little easier and much less boring. You might want to skip the sanding process when working with wood, but your end results will be disappointing. This article shows you how to choose best belt sander for easy sanding.
Makita 9911 75mm Belt Sander – Best Multi-Purpose Sander
Easy belt mounting with no manual adjustments required
Variable speed to take on different tasks
Dust bag is small for heavy duty tasks
Makita 9911 is a belt sander designed to make sanding easy and fun. It features an auto-tracking system that rids you of the need to adjust the belt after installation. The tool is offered compact and lightweight. You can use it for wall flush sanding. Not only is the tool lightweight, but also features an ergonomic and balanced build that makes the sanding process smooth. The unit is fitted with electronic power control. This means that all operations are as easy as tapping a button. Even better, there is a variable speed trigger that lets you regulate speed based on the task that you are taking.
At only 82dB, you will operate this unit and not mind the noise. When in operation, Makita 9911 collects dust ensuring that your work area stays tidy. A 75 x 457 mm belt fits in this unit whose speed can be adjusted from a minimum of 75m/min to a maximum of 270m/min.
Bosch PBS 75A Belt Sander – Best for Heavy Duty Sanding
Automatic tensioning system makes the work easier for you
Automatic belt alignment when tool is in operation
Ergonomic design for comfortable use
Not offered with a sander belt
The Bosch PBS belt sander is a reflection of best belt sander UK models. It is made with the same preciseness as other Bosch tools. It is designed with a Bosch micro-filter system that makes it easy to extract dust. Like the Makita 9911, it is designed an automatic belt tensioning system, which makes it easy for you to install a new belt. On installing the belt, you leave it to adjust automatically. Even better, while sanding, the belt is held in the correct working position, ensuring that you do not have to keep aligning it.
Bosch has created this tool with the user in mind, and as such, you will love its compactness, its manageability and its ease of use. You can even use the belt for stationary work, and it won't disappoint. Like with other Bosch tool, you are offered a 2-year guarantee, which can be extended when you register your tool after buying.
Black+Decker KA86 Belt Sander – Best for Sanding on Edges
Designed to allow quick belt change
Angled belt design makes it ideal for sanding close to edges
Designed powerful for heavy duty tasks
Automatic belt tracking for smooth sanding
Package does not feature a sanding belt
If you are looking for the best cheap belt sander, you might consider this model. One unique feature of the Black+Decker KA86 Belt Sander is the angled belt design. This makes it ideal for sanding stationary surfaces as it gets two times closer to the edges. The technology of this sander allows it to be used on surfaces that require large stock removal including large floor boards and decking. It is fitted with an built-in automatic belt tracking system, which lets you sand smoothly without stopping to align the belt after installation.
During operation, the tool extracts the sanding dust into an extraction bag for a clean working surface. Unlike other models, the extraction bag is large enough for heavy duty sanding. You will love the lever action belt changing mechanism. This mechanism is designed to enhance the process of belt changing and can be used even by first-time sander users.
Silverline 261792 DIY Belt Sander – Best Low Noise Sander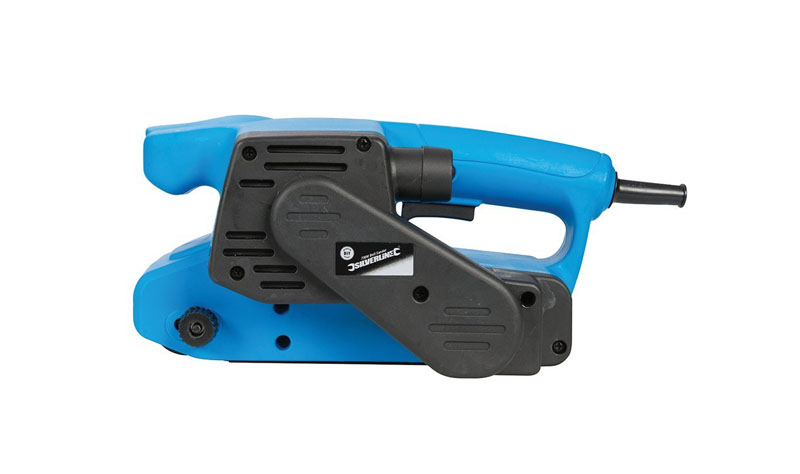 High speed for heavy duty operation
Great handles geometry for comfortable use
Large detachable dust bag
True to its name, this belt sander is designed to ease DIY tasks. It comes with ergonomic handles that are easy on your hands for comfortable sanding. A 76 x 457 mm sanding belt fits in this tool. You will fancy the sanding seeing that this tool features an adjustable tracking and belt tensioning system. This means that you only have to install the belt and leave everything else to be done automatically.
For an even easier operation, the Silverline 261792 DIY Belt Sander is offered with a dust extraction port that is attached to a detachable dust bag. You can sand for a couple of hours before the need to empty the dust bag. This makes this unit ideal for sanding large areas such as decking. This is enhanced by its high no-load speed of 260m/min. A power switch and a lock-on button are ergonomically fitted to ease operation.
Evolution Multi-Purpose Mini Belt Sander – Best for Medium Duty Tasks
Offered with three sanding belts in different grades for different tasks
A large dust bad for extended hours of use
Soft grip handle for comfortable sanding
Designed for one-hand use
Great price quality ratio
Relatively low sanding power for heavy duty tasks
If you are looking for the best belt sander for the money for medium duty sanding, you might consider this model. Though it has relatively low power, and a relatively low price to match its quality, the sander works fast and smoothly. Its compact design and its well-thought geometry enhance one-hand use. Its fast action ensures you remove stock and smooth a surface within minutes. You can use it on wood as well as on plastics.
A soft grip area gives you comfort when you are sanding. It has an automatic belt tracking mechanism, which centres the belt when you are sanding. All the components of this sander are dust-sealed to promote their working life. You will be offered a 2-year warranty on purchase. This is, however, only for UK purchases. It fits 303 x 40 mm belts, and the overall weight of the sander is 1.34 kg.
Belt sanders are handy for all DIY projects. They can be used for grinding wood when you are fitting something during woodworking. You can also clamp the sander, like a power sander, on the bench for planning tasks. Sanding papers, both special and multi-purpose are made together with the belts. There are special purpose belts you can use as buffers, plastic, wood, laminates and metal polisher and cleaner.
Generally, you can use sanders to sand through stock, clean and polish surfaces, reduce the thickness of stock, put a bevel on a door, dress-up poor done saw cut, and make joints neater.
There are two types of sanders; in-line and transverse belt sander. The difference between these two categories is the position of the motor. As a user, you may not even realise any difference as their outward structure looks similar.
Picking the Right Belt Sander
Even with the best belt sander for woodworking, there is no way to replace a hand plane. However, there is a time a belt sander will come handier than a hand plane. If, for instance, you are sanding already glued together wood, seeking to flatten them out, the best woodworking tool for the job is a belt sander. Factors to consider when choosing best belt sander UK include:
For most sanding jobs, you do not need a lot of power. However, based on the size of the project you are undertaking, you may need a belt that moves fast to hasten the sanding. Most sanders are offered in the range of 6 to 10 amperes.
Seeing that belt sanders are used in horizontal position, most people do not mind much about the weight. However, you may need to clean and smooth a stationary vertical surface. Again, you may be needed to carry out long hours of sanding overhead. Depending on the nature of the task, choose a sander that feels light on your hands. Most sanders weigh between 10 and 15 pounds.
Geometry refers to how a sander is constructed. Most manufacturers have ensured that sanders are well balanced for comfortable use. This means that the weight and the size of the sander balance out. Again, other components such as handles and triggers are places in a way that the tool feels easy to use. In most cases, you might want to buy from a brick-and-mortar store to test out the tool. However, you can look at the specifications of the tool online when buying.
Sanders come in two sizes; 3×21-inches and 4×24-inches, the latter is used for heavy duty sanding, and may not be forgiving for amateurs, while the former offers a balance of speed and power. Large sanders accommodate larger belts while smaller sanders accommodate smaller belts.
A while ago, most sanders had one operation speed. Today, you can adjust the speed for different tasks. Sander speeds range from about 500rpm to about 1500rpm. While some tools have two speed of operation, some have a trigger that allows you to choose any speed you prefer. The sander you choose will be dictated by your needs. Variable speed sanders are ideal if you will be using it for a variety of applications. But, if you are running on a tight budget, a single speed sander will do just fine.
Nowadays, most belt sanders are designed with automatic tracking systems. This makes belt changing easy and fast. It also means that you do not have to stop mid-operation to change the tension of your belt. While most tools have automatic tracking, others are designed with a knob, which to adjust until the belt click into position. Manual tracking is not challenging.
There are some sanders designed with no dust collector. You might have seen them in best belt sander review forums bearing the lowest price tag. But there is a huge problem, clean-up after sanding. Best belt sanders models will come with a built-in dust collector. The extra money that you pay for the dust collector is worth it. You only need to ensure that that dust collector is big enough, so you do not have to stop to empty the collector when sanding.
While most of the features you will see today are quite standard with similar features, but other features such as sealing all components to dust, extra settings and adjustments among other features are available. However, these extra features will come at a cost. Unless you need an extra feature, standard sanders will act just fine.
Sanders are offered at great price ranges based on their features and overall build. Let your budget and your needs dictate which sander to buy.
Conclusion – what to choose – 2023 edition?
When looking for the best belt disc sander, or just a sander that will get the job done, consider tasks that you may need to carry out in future. While you may buy a light to medium weight task sander, and find its operation just fine, in future you may need heavy duty sanders. To this end, consider a multi-purpose sander.
Makita 9911 75mm Belt Sander is the winner of this best belt sander review and for a good reason; the sander is multi-purpose. It is offered with all standard features and you will not need a manual to operate it. It minimalistic geometry allows comfortable use with the handle and all triggers well positioned. The tool is powerful enough to accommodate its use on various projects. Again, you can adjust its speed; when sanding pine and other soft wood, use a low speed, and when sanding hardwood and metal, you can use a high speed. The tool has auto-tracking, making it easy for you to install a new belt.