How to pick the best drain cleaning machine? Check out a ridgid powerclear drain cleaner review list in 2023!
Clogged sinks and other sanitary equipment is surely a problem that will concern all of us at some point. That is why no one should be surprised that there are dozens of different tutorials that help you fix the problem and even more methods that prevent this from happening. Using a powered drain cleaner is probably one of the best options out there, especially if you know how to pick the right one.
Sadly, there are dozens of drain cleaning machines out there and not everyone realizes how difficult it really is to pick the option that suits our expectations. We need to include a number of functionalities and options and make sure that all the parameters are above average. Only then will we be able to pick the best drain cleaning machine. That is why we prepared ridgid powerclear drain cleaner reviews as well as a purchasing guide. Thanks to that, you can hope for a lot of attractive options.
In the list 2023 we can find tools that are very powerful and offer large rotary speed. Besides that, we also took into account universality and flexibility of shafts. Obviously, the possibility to work with ease and in comfort is quite important. Besides that, we took into account the type of power supply and durability of the product. Reviews and final price of the kit was quite crucial as well.
The best drain cleaner you can currently buy is a great value for money option, namely Ryobi R18DA-0 ONE+ Cordless Drain Auger
Pros
• Great value for money;
• 3 years warranty;
• Highly durable and efficient;
• Very universal in use;
• Comfortable product.
Cons
• The price doesn't include battery and charger;
• No interesting accessories included. 
Ryobi presents a budget-like product that is ideal if we wish to clean or unblock drains that are located in our households. The product is equipped with a very long cable that has 7.6 meters. Its construction makes it very difficult to kink. More importantly, we need to remember about its clearing efficiency.
Thanks to the design, we can use it to unclog drains up to 50 mm thick. The option prepared by Ryobi is available as a cordless device. As a result, it is much easier to use the product in a very efficient and very comfortable way. Another thing that improves the comfort of use is its relatively low weight. With approximately 3.6 kg, it is one of the lightest options out there. We need to remember that it is without a battery.
Another advantage worth mentioning is warranty. It lasts for 3 years, making Ryobi products one of the most durable options out there. Unfortunately, the price of the product concerns the "bare" tool. It means that we need to purchase a battery and a charger separately.
If we look for a cable powered drain cleaner, then take a closer look at Techlifer Drain Cleaning Machine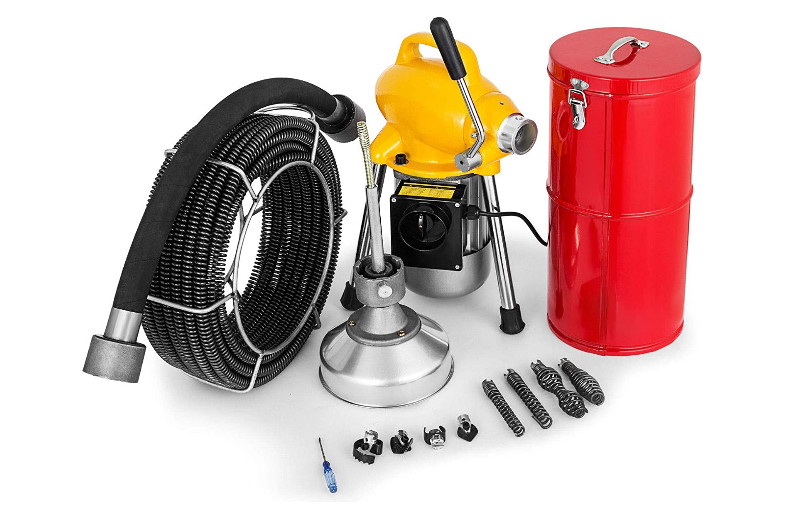 Pros
• Very large power;
• Pretty good cleaning pipe diameter range;
• Great control of the product;
• Great value for money;
• High RPMs.
Cons
• Poor quality finishing.
This particular option is known for its portable dimensions but at the same time quite large and flexible shaft diameter. An option prepared by Techlifer guarantees a very powerful motor that is capable of delivering 700 W of power. Interestingly it provides us with the clockwise and counterclockwise spiral rotations at the level of 600 RPMs. There is also a three-stage switch for better control.
The kit comes with a spiral adapter that can be used in order to clog different sizes of coils and small diameter tubes. Interestingly, we should also look at the extended drill assembly, which guarantees all the necessary accessories and gadgets to clean drain hoses without using dangerous chemicals.
In terms of specification, the product offers flexible cleaning pipe diameter which ranges from 20 to 65 mm which is basically 0.8 to 2.6 inch. It is a slightly larger range and better option to use. The maximum cleaning length is 7.6 meters, which is the same as in the case of the winner of the ranking.
Similar price and the fact that we receive everything required for unclogging makes this alternative one of the most interesting drain cleaning machines for our own home use. Sadly, the quality of the casing as well as some of the bits is questionable to say the least.
What is the best drain cleaner when it comes to budget-friendly options? Take a closer look at TACKLIFE HGDDC1A
Pros
• The best value for money;
• Everything necessary required in the kit;
• Compact size and light;
• Great flexibility.
Cons
• Low maximum cleaning drain diameter. 
If we don't mind purchasing a product with a fairly limited maximum drain diameter, then we highly encourage picking one of the most interesting cordless options out there, namely TACKLIFE. The model HGDDC1A can boast with a very cheap price and quite large rotary speed.
The product guarantees large torque for such a compact product that is powered by batteries. As a result, it can be used effectively when it comes to cleaning drains in every equipment we can find in kitchens and bathrooms.
One of the first things to consider is the maximum cleaning diameter. In this case, the maximum diameter is relatively low, because it is only 51 mm. However, we can use the product with such tiny drains as 19 mm due to its large customization.
Another thing worth mentioning is great comfort of use. It is a small and at the same time very light option. Another thing that improves the comfort is LED light. It increases our visibility, especially in confined spaces and dark rooms. Interestingly, the kit comes with all the necessary elements, making the option the best value for money.
If you look for a more professional option, Ridgid 37343 seems like great opportunity
Pros
• Very effective;
• Large maximum cleaning pipe diameter; 
• Powerful motor;
• Several additional accessories included in the kit;
• Leak-resistant features.
Cons
• Very expensive;
• Not suitable for very thin drain lines.  
This is one of the most expensive options in the ranking. However, with such a gigantic price increase, we also have a lot of important functionalities and improvements when compared to its competition. It comes with great power and offers durability like no other.
The first thing to consider is its speed. It is fully variable and we can choose from 0 to 600 RPMs, making it a versatile option that can be adjusted in a perfect way to every situation. Another thing we should remember about is the introduction of an advanced, 2-way autofeed. Thanks to that, we can work smoothly and at much greater speed.
This particular product is most often used in cleaning a bit larger drain lines than the budget options presented before. As a result, the cleaning diameter range starts from 30 mm. However, the most important thing is that we can use it with drain lines up to 75 mm thick.
Bear in mind that there are several additional gadgets besides the essential elements in the box. That is why besides the tool itself and a 10.7 meter-long cable, we can also hope for a 5-piece tool and a metal transport case. Still, it is incredibly expensive and, because of that, not recommended for an amateur use.
YCX Drain cleaning machine is a slightly less expensive product, yet prepared for even larger pipes!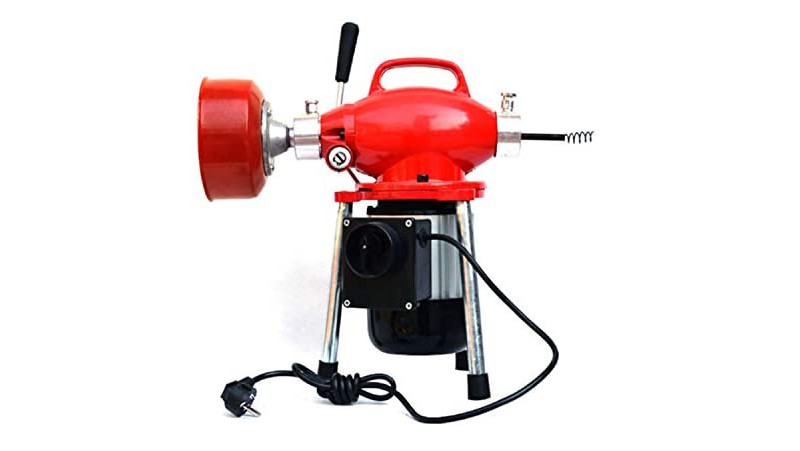 Pros
• Highly versatile device;
• Great number of accessories included;
• Three different positions to use;
• Very large maximum cleaning diameter. 
Cons
• Quite expensive;
• Poorer parameters than the competition. 
If we care about the possibility of cleaning large pipes, then we should certainly take a closer look at YCX. It is the brand that offers a great option for very demanding, professional use. However, because of its simple design, it can be just as well used by amateurs and for any home use.
In terms of parameters, the product is equipped with a motor that has only 250W. Though it seems like not much, it guarantees the rotational speed at the level of 400 R a minute. A very important thing regarding this tool is the fact that it can work clockwise and counterclockwise.
Another advantage the product has is access to a number of spirals of different sizes. As a result, it is possible to work with many different sanitary equipment. Besides that, the product comes with an additional set of heads. All of that makes the option prepared by YCX one of the most entertaining ones on the market. This particular option is also fitted with three different positions. As a result, it can rotate in both directions and, if we want, stop rotating at all.
The option surprises us with its incredibly large range of cleaning pipe diameters. The efficient cleaning can be carried out on lines that are 20-100 mm thick. It means that this is by far the most versatile option presented in ranking 2023.
How to make sure that we pick the most suitable cleaning machine for pipes?
If you have ever complained about drain lines that can clog after a month from the last plumber visit, then you are probably in need of a product that can get deep into the drains and clean most of the problems that are located way deeper than most of us would think. This is the reason for you to purchase a drain cleaning machine.
Interestingly, you don't have to spend hundreds of dollars on a product because you can simply try out a number of budget-friendly products that guarantee great efficiency. Still, you have to remember about several crucial aspects like for example the type of power supply as well as the power and the rotary speed.
Besides the obvious, just mentioned parameters, you should also take into account the rotary direction as well as the functionality of that. Another thing worth noting regarding purchasing the right cleaning machine for pipes is the pipe size it can clean. Let's also not forget about the type of the head as well as the amount of them. Another thing worth noting is the cable length. For more information, better check out the following article: https://www.mswmag.com/blog/2017/05/drain_cleaning_tool_selection_guide_sc_001am
Power supply – is it corded or cordless?
The first thing worth considering is the power supply, namely picking a corded or cordless option. As you can guess from the name, power tools require power in order to work. It improves the comfort of use and increases their efficiency. If you don't care about purchasing a product that might be much more difficult to use, then corded ones will surely be great.
Corded drain cleaning devices can boast with a relatively low price when compared to its functionality and parameters. We should remember that they weigh much more than cordless counterparts and, because of the power cable, they are less comfortable in use.
Cordless ones are, however, much more expensive. However, as a result of much smaller design and lightweight construction, it is much easier to use such a tool. The final option depends on your budget and expectations, but remember that to buy a cordless device with the same power as in the case of its corded counterpart, you need to pay a bit more.
Ryobi R18DA-0 ONE+
Crucial parameters – check out the power and rotary speed
Once we figure out whether we want a cordless or corded device, the time has come to look at the parameters of the tool. Machines such as these need to have a motor that is capable of producing enough power to effectively rotate the head responsible for unclogging a number of different, quite often difficult to remove obstacles. For this reason, power is of utmost importance.
We encourage picking tools with a wattage over 500 W, because it indicates that even in the case of much more demanding work, our product will work just fine without overheating too often. It also increases the durability of the product.
Techlifer Drain Cleaning Machine
Another thing to consider is the rotary speed. As we all know, the heads at the end of the cable are available in two different types: augers and cutters. They need to rotate in order to get rid of the clogged elements such as food leftovers, hair, or even other objects that shouldn't be drained in the toilet or in the sink. That is why make sure that the rotary speed is at the level of 400-500 RPM or higher.
What about cleaning efficiency?
Just like in many other power tools, efficiency is the key element when picking the right option. This particular aspect is largely dependent on our budget, because in the case of inexpensive options, we can't hope for great diameter range. Still, we should remember that the machines offer quite large flexibility, even the cheaper ones.
In terms of maximum cleaning diameters, the budget options should offer us the possibility to unclog at least 50 mm thick drain lines. Interestingly, if we pay extra money, we can have products with cleaning diameter pipes of even 100 mm.
YCX Drain cleaning machine
Cleaning efficiency is also dependent on the cable length. As you know, removing debris and other obstacles with the use of chemical components is not the safest option out there. That is why these cleaning machines grant cables that we can put inside the sewer lines very deep – up to 10 meters.
Obviously, 10-meter-long cable is available only in the case of more professional products. Still, we shouldn't think of devices that have cables shorter than 5 meters. A lot of budget products can guarantee tubes that are approximately 7 meters long.
Ridgid 37343
Remember about functionality as well
The possibility to set the desired speed is surely one of the most important features to consider. Bear in mind; however, that the regulations can greatly vary from one product to another. The most basic thing is that we can choose one of several rotary speed options thanks to which it is possible to adjust the product to the working conditions.
Obviously, another functional thing that should catch our eye is the possibility to set different rotary directions. If we find a product that can work clockwise and counterclockwise, then it is a great piece of feature that will later on come in handy.
In terms of other features, we should also think about something that will improve the comfort of use like, for example, LED light. It will greatly increase the visibility, which is quite often a problem that concerns most of us due to the character of the work.
Drain cleaning machine opinions and prices
Positive opinions and great feedback is quite important because it indicates that others enjoy using the product. It also shows that the option is durable and highly efficient. Obviously, the more popular the drain cleaning machine is, the higher chance that in the case of any questions or problems someone will be there to help us out.
Let's also remember about the quality to price ratio. We all want to buy a good value for money. However, not everyone really knows that it depends on a wide range of factors. All the aspects mentioned above can either increase or decrease the price. Besides them, we should also pay attention to the renown of the selected brand and, also, the period of warranty.
TACKLIFE HGDDC1A
Summary and conclusion – best drain cleaning machine in UK 2023
One of the best options that is available at a relatively low price is surely the Ryobi R18DA-0 ONE+ Cordless Drain Auger. Although it has some downsides, this particular item guarantees great performance and a lot of functional solutions. Let's not forget about the compact design and cordless power supply, which will come in handy when we need to use the product outside.
There are, of course, some great alternatives available out there that can boast with, for example, larger power or smaller price. It all depends on what we are really looking for. The best way to choose your own great drain cleaning machine is by simply checking the presented above tutorial with all the tips and advice.