Looking for the best drill bit for steel? Take a look at our ranking from 2023!
It's very difficult to find legitimate drill bits that can not only maintain good condition for a long time, but also provide us with effective drilling experience. People tend to choose the least expensive solutions. Because of that, they are often left alone with poor bits that cannot help in any way. In order to save you from choosing poor ones and give you the best drill bit set for steel, we prepared for you today's content. It gathers crucial information regarding this field of expertise, letting you choose the best type of drill bit for steel. What is more, we will also give you several advice which bits work well. But before we do that, let us show you the list of 5 accessories worth recommending.
The winner of our ranking – Draper 18549 Titanium Nitride Coated HSS Drill Bit Set (15 Pieces)
If used inappropriately, coating may come off and drills go blunt very quickly
There are several reasons why we believe drill bit set prepared by Draper fulfils its job quite well. First of all, it is because its material. They are made of durable material and what is more important, coated with Titanium nitride. It is extremely hard and ceramic substance that is very often used to protect the surface and improve its properties. Because of that, Draper HSS Drill Bit Set offers amazing drilling experience. People, who are using this set, often compare their effectiveness to knife cutting through the butter – no wonder when we take under consideration how amazing it performs with variety types of materials. Another interesting fact is its universality. You can use these bits to almost any drill.
As for the price, we don't need to spend a lot of money, because when on sale, it is one of the cheapest and at the same time one of the best drilling pieces on the market.
Another interesting offer is VonHaus Universal 99 Piece Titanium Coated HSS Drill Bit Set & Carry Case 1.5 – 10mm
Very low friction drilling
Suitable for variety of materials, not only steel
A lot of drill bits at your disposal
Poor quality of the carry case
As in case of Draper drill bits, VonHaus provides us with universal pieces. It means you can use all the bits with many different drills, including Bosch, Makita, De Walt, and of course Von Haus itself. They are made of steel and coated with titanium in order to increase the effectiveness of drilling. As for the case, we receive here very durable and pretty portable carry case that lets us storage all the accessories and transport them. The thing that distinguishes Von Haus from other popular drill bits is of course the number of different bits. We can find here bits from 1.5 mm up to 10 mm. Of course it doesn't mean Titanium Coated drill bits are usable for one material only. You can use it for wood and plastic, but remember that it is considered to be one of the best drill bit for steel in uk!
With much bigger case and much higher number of bits comes higher price. It; however, doesn't mean we will overpay. This is still affordable bits set.
Third recommendation for the best drill bit for stainless steel LESHP 15PCS Titanium Coated Cobalt Drill Bit With Carry Case
Drilling effectiveness improved
Plastic elements on the case
In case of the product prepared by LESHP company, we can see here the same coating as it was used in the recommendation number two. Nevertheless, in here we can see very precise material. Thanks to the use of high-speed steel, these drill bits are great for stainless steel, iron plate, foot iron, copper, aluminium, zinc alloy, and of course less durable materials like plastic or wood. Thanks to above-mentioned coating, we can also be sure of improved toughness and better durability. One also cannot forget about drilling ability that is much more effective now. The accessory set contains 15 pieces with various sizes. Of course we are not going to find here all the sizes that are available in 99 bits boxes. Still, we can choose from 1.5 mm up to 10 mm.
As for the price, they are more expensive than the winner of our ranking and comparable with price to the second option.
If these products do not speak to you, think about Micro Trader 99pcs Titanium Coated HSS High Speed Steel Drill Bit Set Tool 1.5mm – 10mm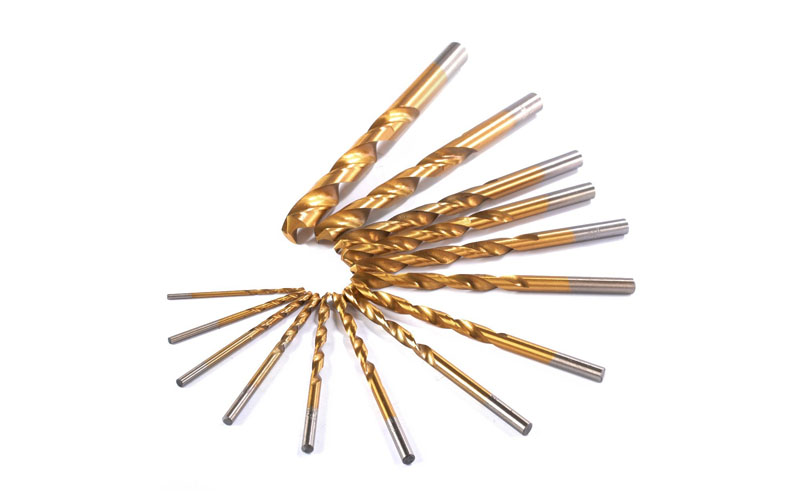 Very effective with less durable materials
Numerous pieces with different sizes
Poor effectiveness against steel
In here we can see one more titanium coated drill bits. The difference is that the producer recommends using these bits only for particular materials. Thanks to that, we will have even better drilling effectiveness in drilling through wood, plastic, and aluminium. What's more, Micro Trader boasts its drill bits for one of the best pieces since they facilitate the drilling process very much. Unfortunately, their effectiveness becomes worse every time we use it on very durable and tough materials like stainless steel. That is why it this type of drill bit for hardened steel is not recommended. Our opinion is backed with plenty of people, who were looking for the best drill bit for steel, reviews, and their critics.
A very positive side of these pieces is their price. We can save up a lot of money and purchase 99 pieces in the price of 15.
Last suggestion is from Bosch – take a look at Bosch 10 Piece Metal HSS-R Drill Bit Set
Can drill through steel very quickly
Bits can wear off if they encounter high temperature
In this case, we can see famous German producer wanted to go for quality, and not for quantity. How well did their plan work? If we don't take into account plastic case that may not be the safest place for your drills, the rest is prepared in a very durable and well-thought way. They are made of high-speed metal, which is also known as afore-mentioned titanium. Of course, it guarantees very easy drilling and it reduces the strength and effort we need to put in order to drill through durable material.
The price for Bosch product is quite high, considering it is only 10 pieces. Nevertheless, the producer assures great quality of the bits.
Wondering what are the most important elements? Here's an explanation!
If you keep thinking how to drill through stainless steel or you are just looking for great core drill bits for steel, it is good to know something about drilling through such though materials. The following section provides essential information that will help you choose the right pieces, so you don't need to look for drilling stainless steel tips and work effortlessly! Here is the thorough explanation: https://www.grainger.com/content/supplylink-greenfield-metalworking-drill-bit . If, however, you prefer information in a nutshell, carry on with reading!
The first and of course the most important element is material which was used to create drills. In many cases we can find high speed steel, a special type of carbon steel, bits that are great for drilling through steel. Of course there are other materials that we should take under consideration. An interesting choice is carbon steel itself. We can distinguish low and high carbon steels. The first ones can be used for wood and other soft materials only. The latter, high carbon steels, are great for more demanding materials.
In order to maintain our bits in great condition, we should look for coatings that extend the life of our bits. The basic coating we can find in HSS large drill bits for steel is of course titanium. It makes the drill resistant to high temperatures, what is very important in case of more durable materials. Another coatings are zirconium and cobalt. Zirconium is an alternative for titanium coatings and it makes the drill bits more accurate and more efficient, since they decrease friction. As for cobalt, it is essential for materials like stainless steel, since HSS cannot cut through it.
An interesting addition to our drill bit types for steel is of course carry case. Most of producers offer very poor quality case which is made of plastic. Nevertheless, it is usually used for transport and storage without any problems. It is still worth to draw our attention to case in order to see if pieces are secured in the case.
Summary – why there are so many different types of drill bits for steel available in 2023?
In order to find the one drill bits for steel, we need to define our requirements. Once we made sure what type of materials we will be drilling through, the choice should be simple. Except for taking into account material, coating, and case, it is also worth to see what other people say about our choice. The more positive comments, the higher chance given product will fulfil our expectations!