Best Folding Saw – A Review of products available in 2023
Most of us have felt the need for a blade or a saw that is easy-to-carry. An effective folding saw is a useful tool to have in your kit anytime. If you are backpacking, this is the kind of blade/ saw that may come handy in different circumstances.
The folding saw is a sharp toothed blade that folds easily into the handle and can be tucked safely in your pocket. It can be put to a lot of uses from pruning shears and poles to cutting small logs, branches, and bushes. It is so convenient and handy for many DIY jobs or backpacking travels.
As we know, there are many varieties of folding saws available currently and the best folding saw is one which does its job efficiently and is also safe to handle. This article is a review of the best folding saws UK.
Bahco Laplander Folding Saw (396LAP) – The Pruning Saw
The Bahco Laplander has a great build-quality. The construction is simple, very effective and safe to carry around.
It can cut very well. The blade with a 2- side toothing is very effective in cutting grass, small to medium branches and trees.
It is one of the best folding saws for backpacking because it is lightweight and can be carried around without any hassle.
The handle is made of high quality shatterproof high-density plastic. It is convenient to hold and gives a solid grip.
The maintenance is easy and if you want the blade can be replaced by loosening the screw, re-inserting another blade, and re-tightening the screw.
The plastic feel of the grip may not go down well with a few people. It gives a firm grip, but is not anything extraordinary.
Though there are Bahco blades available, the replacement of the old with new can prove irksome, especially if the new one does not fit well into the handle.
The sustainability of the Bahco blade under tough conditions is a little doubtful, because of the epoxy non-stick blade coating.
The Bahco Laplander is one product that features in most best folding saw reviews and for good reason. This is a folding saw that comes with a thicker Sandvik steel blade (high quality) and a non-stick coating of clade that reduces friction. The Bahco XT Toothing can cut in both directions. This is most useful for cutting along or across the grain. The blade is about 7 ½ inches long and has a dimension of 230mm * 50mm * 25mm (length, width, depth).
The Bahco folding saw is very useful for cutting branches and small/ medium trees. It can cut through plastic and bone as well. The teeth of the blade are sharp and cut in both directions, so it can cut easily and accurately. If you use the blade on a small or medium tree/ branch, the blade does not stick and works effectively.
Shine Hai Premium Folding Pruning Saw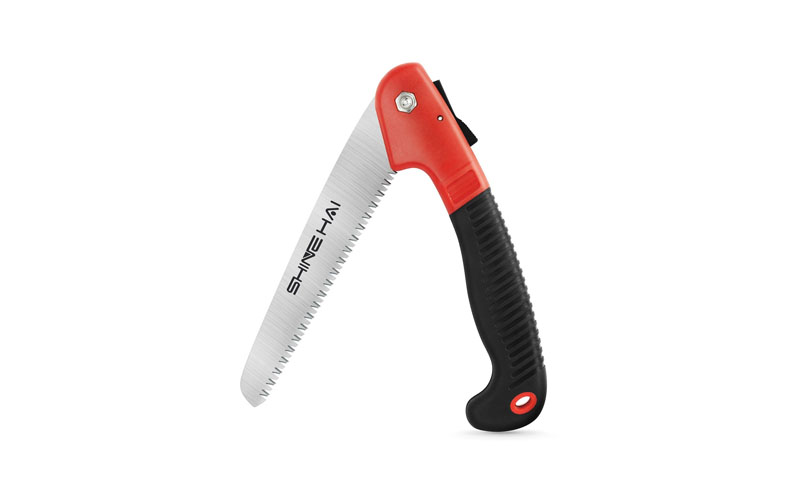 The Shine Hai folding saw is lightweight and can be comfortably used because of its well-constructed design.
The blade can be folded securely into the handle, which holds it firmly in place during use and safe when it is not in use. It is therefore safe and convenient to be carried around.
It can be put to a wide variety of uses from pruning your garden to trimming down trees and branches during hiking and camping.
It sustains rough and tough usage and holds out well when used in different situations.
It is a good value-for-money product.
This is a very basic folding saw which is useful on green wood and soft timber. But how it holds out in the wilds may not be impressive and satisfying for many.
It is just ok for the smaller branches and garden pruning; for the more sturdier branches or trees, this may prove inadequate.
This is a lightweight folding saw that is useful in your gardening expeditions, quite handy when camping, for trimming down trees, hunting etc., It comes with a soft yet comfortable grip and has triple cut sharp blades which work well. It features in many best folding saw UK reviews because it is a useful survival tool and a great value-addition to your backpacking kits.
The Shine Hai is made of clean, rust-resistant manganese steel blade. The grip is strong, ergonomically curved, comfortable and designed to precision. This is a pruning saw which has a 7inch premium 65Mn carbon steel triple cut blade. It comes with a folding and quick secure locking system which makes it safe to carry around.
Heimwert Folding Saw in ultra-hard carbon steel – double adjustable saw – garden saw with a safety lock
The Heimwart folding saw is designed to be absolutely safe when not in use and very effective when in use.
It has an ergonomic design, which makes it very convenient to use for any cutting, pruning activities.
It looks and feels sturdy and strong.
It has a wide variety of applications – from simple everyday uses to backpacking requirements that it can fulfil satisfactorily.
It comes with a belt bag and can fit inside this in its collapsed position. Therefore, very convenient to be carried around on any outdoor adventure and survival situations.
Heimwart is a German brand that offers products home, garden, and leisure. Their folding saw is one among the best folding saws backpacking because it is absolutely safe to use. The folding saw snaps into the open position and does not budge until the holder releases the safety catch.
It is quite comfortable to use because it comes with a non-slip grip, which helps you to gain the required control. The blade is about 19.5" long and is made of high quality carbon steel. This is a well-constructed folding saw which can adjust the saw blade in two positions as per your requirement.
It is a multi-purpose blade which can be used for simple everyday gardening tasks or in any camping trips to saw branches, prune grass, cut bones etc.,
This a product that has received very good reviews and has been used satisfactorily and does not have any noteworthy drawback. It is a basic folding saw which does its job well.
Felco 600 (Model 600) Folding pull-stroke pruning saw (length 16cms); patented lade design
The blade is very sharp and the teeth are well-structured to prevent clogging and sap build-up as only the teeth come into contact with the wood when cutting.
This is a folding saw which can be conveniently carried around.
Because there is not much clogging and sap build-up, the maintenance is also relatively simple. And, most parts of this folding saw are replaceable.
It is very expensive when compared to other products in the best folding saws UK category.
For the price, it feels flimsy and basic. May not look or feel spectacular when compared to the price.
Sometimes it tends to slip out of the closed position, which is not convenient or safe at all.
This is one of the best folding saws with a rust-resistant hard-chromed blade which is made of high-quality steel. The teeth of the blade have been treated with heat to ensure precise, clean cuts and shaped and arranged in a way that prevents the accumulation of sap. The blade is conically shaped to ensure that the saw cuts without clogging.
The blade comes with a non-slip handle with easy maintenance. It can be used for a variety of jobs from felling light to medium woods, for pruning and cutting.
Let us look at the pros and cons in brief.
Milwaukee 48220305 Folding Jab saw – Red/ Black
It is easy to store and easy to carry around.
It can be used for different purposes – cutting, pruning, felling etc.,
The large grip gives greater control.
The metal blade, though smaller in size is very sharp and powerful.
It can attach any standard 6" saw blade for metal, wood and drywall.
This is an expensive folding jab saw.
It is a small blade and not a good idea really o experiment it on tougher activities considering the price.
The Milwaukee jab saw is a simple yet effective instrument to have in your tool kit. It comes with a tool free blade change, which makes it very convenient for outdoor use. The blade folds neatly into its handle making it easy to store when not in use. This saw comes with a rubber over mould grip, which is anti-slip and gives comfort even after prolonged use.
How does one choose a folding saw?
When you are on a backpacking trip in the wilds, a folding saw is probably one of the most useful equipment that you can carry around. The best folding saw backpacking will be useful only if you are able to choose a product that is suitable for your requirements. So, choose one after listing out all the possible tasks that it may be used for.
The best folding saw is one which is compact and portable and does its job with precision. It must be multi-functional and safe to carry around when not in use. Your best folding saw backpacking may also turn out to be your survival tool.
When you choose a folding saw, look for reliability – it should be stable and must perform a variety of jobs and your folding saw must be a tool that you can depend on.
The blade of the product that you choose must be of excellent quality, sharp and designed to cut efficiently. The teeth of the blade must be aptly shaped and structured to give a clean, precise, and smooth cut. Also, ensure that the blade sits well into the handle when not in use and does not have a tendency of slipping out. It also should not be stiff and when pulled out the blade must come out in a smooth stroke.
And lastly, you must feel comfortable and well-in-control when you hold the saw. The grip or the handle must give you that comfort and power to wield the instrument as you want to. There are a variety of saws as we have seen in the best folding saw UK reviews in different prices. Depending on your uses and frequency of use, choose a product that fits your budget.
Conclusion – 2023 edition
The five products mentioned in our best folding saw reviews have the above-mentioned qualities and are useful and handy in a variety of applications. The Bahco Laplander saw seems to have a tiny edge over the others, but the Heimwart is also close. Every product/brand has its own benefits and drawbacks. Go ahead and choose one which fulfils your requirements satisfactorily.