How to pick the best gas soldering iron uk? Check out the latest standings and an in-depth description!
Butane powered soldering irons are surely very useful products. They are much more versatile and can be used in places without power. Obviously, it is also much quicker ready because of the direct contact of the fuel. Because of that, sometimes it is much better to pick a gas powered soldering iron.
There are; however, a great deal of products available on the market. As a result, many semi-professionals and DIY workers do not know how to pick the best gas soldering iron that will suit all our expectations. In order to make it all easier, we prepared the ranking of best gas soldering iron uk in 2023.
In this list, we mentioned five extraordinary products that vary in their usefulness and versatility. However, they are prepared in a way they meet expectations of all people – those who just want to work on amateur projects, and for those with more demanding plans. Obviously, we remembered about the efficiency of the product, the period of work on one tank, some additional features, as well as safety precautions.
The best gas soldering iron for a low price you can have is Draper 78774 Butane Powered Soldering Iron
Pros
• Very light;
• Compact size;
• Extremely quick in heating up the soldering tip;
• Variable flame control;
• Very cheap.
Cons
• Difficult to fill in the entire gas tank;
• Very short work on one tank. 
This tiny device with a very small weight will surely appeal to most of the people who rely on swift and problem free work. The authors installed here an electronic ignition and the possibility to set a variable flame control. It means that we can set the desired temperature and increase the heating time, which is very fast in general.
This is a product from a very low price range. However, thanks to its compact size, we can use it with one hand without any efforts whatsoever. The process of filling it with gas is quite simple. However, it requires a little experience due to very flimsy construction of an entry point.
We should also bear in mind that this light and cheap product does not come with a large gas tank. As a result, we have only approximately 20 minutes of work before it runs out of butane.
Another important option you can choose is Dremel Versatip 2000 Cordless Soldering Iron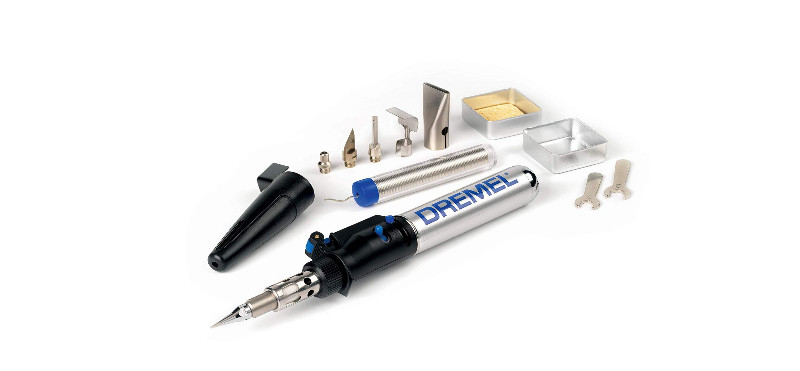 Pros
• Six different tips for increased versatility;
• Above than average one-tank efficiency; 
• Large maximum temperature; 
• Compact in size.
Cons
• Costly;
• Poor quality of a soldering tip.
In the case of much more versatile projects, we should be looking at the Dremel model that guarantees up to 6 different tips thanks to which, we can not only solder, but also deal with pyrography, hot cutting, paint removing, and even welding or heat embossing!
As in the case of all other products and gas-powered soldering irons, it is very easy to heat up the tip and work flawlessly with this dremel gas soldering iron. The authors introduced a variable temperature setting to improve the comfort of use. Interestingly, we should also remember about an easy and safe start thanks to the installation of the integrated ignition trigger.
It is not as light as the previous product nor it is as small. however, we can still operate it with the use of one hand only effortlessly. The tank of butane gas lasts for approximately 30-50 minutes. This is; however, a much more costly option than the one presented above. As a result, it may not be ideal for everyone.
Great maximum temperature? Then Weller WP3EU Butane Gas Operated Soldering Iron is the best gas powered soldering iron for you
Pros
• A lot of functions that improve soldering and other works;
• Two different shapes of soldering tip to pick from;
• Very large maximum temperature.
Cons
• A bit worse efficiency than in the case of other products from the same price range. 
In the same price range, we can purchase even a more powerful product that is prepared for very extreme temperatures. With its operating time at around 30-40 minutes, a Weller butane soldering iron is another great option.
The maximum temperature the soldering tip can work with is about 1300 degrees Celsius. It refers to the open flame option, and not the soldering tip itself. However but also the hot air function. In addition to these two options, we can also make use of an open flame feature thanks to which it is possible to use the product for soldering such materials as plastic.
The kit is not as advanced and full as in the case of previous options. Nevertheless, we still receive a package of three different soldering tips – one chisel shaped and two conicals.
It is; however, a less efficient product with up to 30 minutes of work on a full gas tank. What is more the kit is not as rich as in the case of other options in this price range.
IRODA SolderPro is recommended for a very long work on one tank
Pros
• Very efficient;
• A lot of additions included in the package;
• Compact size and lightweight;
• Long-lasting warranty.
Cons
• Extremely expensive.
If we are not afraid of spending much more than usual, then you should definitely consider Iroda, a brand that is well known for their top of the range products. The quality of this particular model has been proved several times already.
With such a large price, we receive a variable heat control that is equivalent to even 125W. Interestingly, this is a lightweight and portable product. The entire package weighs only 700 grams.
The product can boast with a large tank. Together with a very efficient combustion system, the product can work up to 120 minutes if we choose a middle power option.It also heats up the soldering tip very quickly. However, because it lasts more than in other products of this type, it is considered to be at the average level.
The only problem with this option is that it costs much more than other products listed in the ranking 2023.
Pros
• Very rich package;
• Up to 2 hours on one gas tank;
• Great parameters and maximum power;
• A lot of replaceables available in other sources.
Cons
• Very costly;
• It takes up to 30 seconds to heat up the device.
Although it is not as powerful as the option before, this particular package is one of the best if we don't want to spend additional time on purchasing replaceable soldering tips. As far as the soldering iron itself is concerned, it is also a very interesting and worth recommending product due to its parameters.
Thanks to the introduction of a very efficient combustion system that reduces the amount of gas needed for ignition, the authors managed to extend the use of a product on one gas tank to maximum. Together with a larger than usual capacity, it is possible to enjoy this soldering iron for up to 2 hours.
The most important advantage of the SP-1 is the fact that in the kit we have up to 15 different pieces to choose from. Sadly, the problem is that it takes up to 30 seconds to heat up the tip. What is more, it is a very costly solution.
How to make sure we are buying the right gas soldering iron?
Choosing this type of soldering iron has got many advantages. It is by far the most efficient option and is great for a number of different projects that do not necessarily resolve around soldering. However, we should make sure that we pick the most appropriate device for our own use.
The best gas powered soldering iron needs to be efficient – that is certainly one of the most important things to note. However, it is also very important to remember about choosing a product that has some additional functionalities that translate into increased comfort of use.
Such products are also very small in size and, as a result, they can be used with one hand. That is why, always remember about that aspect. What is more, be sure that your option does not take too long to heat up, because in that way you lose your precious gas. Some additional information are available here: https://www.circuitspecialists.com/blog/why-choose-a-butane-soldering-iron/
Remember about efficiency
One of the most important features as far as using the bas powered soldering iron is concerned, is its efficiency. Basically it refers to the amount of gas that is used per minute on average. Quite often brands show us the maximum time of using the soldering iron on one full tank.
The minimum that should interest us is 10 minutes. However, we strongly encourage products with at least efficiency at the level of 30 minutes. Thanks to that, we don't have to refill the tank as frequently as in the case of cheaper products.
Interestingly, the most efficient products are available to work on one gas tank for up to 100 minutes or even 2 hours. It also indicates that their combustion system and the amount of gas needed for work is much smaller.
IRODA SolderPro
Dremel Versatip 2000
The heating time is also important
The possibility to use a product only 10-15 seconds after ignition is one of the most crucial aspects of purchasing such a product. This is one of the most important advantages over standard, corded soldering irons.
We don't want to waste precious gas inside the tank, especially if it is low. That is why remember about that parameter while picking the right product and never purchase a cordless, gas-based soldering iron with a heating time higher than 30 seconds.
Remember about functionalities
Though it is not possible to regulate the exact temperature of these devices, it is a very good idea to pick a soldering iron on gas that has a variable flame, which is basically the option to change the gas consumption and its temperature.
Another important thing to note is the type of ignition system that is used in the product. It should be an instant electronic ignition that guarantees a very quick heat up time.
Also, a very easy and problem free mounting and demounting of soldering tips is another interesting thing we should remember about. Functionality also means that we can change from soldering, into hot air or even an open flame, thanks to which we can obtain a temperature that easily exceeds 1000 degrees Celsius.
Portasol SP-1 Super Pro Gas Sold Iron 125
Draper 78774 Butane Powered Soldering Iron
The comfort of use and the size of the tool
Very small and light products are great because they guarantee a problem free use with only one hand. In this way, we don't have to worry about fatigue while finishing much larger projects. This is the reason why weight and size do matter!
Obviously, the comfort can be easily influenced by the design itself. If the construction near the soldering tip is not resistant to heat, it can be easily broken down after longer soldering tasks.
Summary and conclusion – best gas soldering iron in UK 2023
If you want the most versatile option that is at the same time extremely budget-friendly, then the best solution you have is to pick Draper 78774 Butane Powered Soldering Iron. This particular device does not guarantee an efficiency as others, but thanks to its incredibly small size and user-friendliness, it can be used by everyone in no time.
Obviously, you may want a bit more durable option that is also more functional and prepared for more demanding jobs. In that case, you better familiarize yourself with the alternatives in the ranking or simply read the purchasing guide. There, you can find all the necessary information to make a conscious buy.