Would you like to purchase the best orbital sander available on the market(2023)? See the recommendation list below!
Orbital sanders currently available on the market vary in almost any possible term. There are so many interesting products, regular customer will never find out what are the pros and cons of each of them. One of the most important reasons we decided to create this article is to provide you with the necessary information regarding each element as well as deliver the list of the most recommendable products, which could fulfil your expectations. Also, we decided to pick the winner in order to give you a glimpse of what aspects of orbital sander should be sought for the most. So, without any further ado, let us jump into the ranking to see which tools managed to find their place on our list.
The winner is… Makita BO4556 240 V Palm Sander Plus Clamp!
This Japanese company is so popular, it doesn't need to be introduced to anyone. Well-known for delivering high quality products for DIY work, professional woodworking, as well as amateur work in your garage or home repairs. This time they released quite interesting random-orbit sander, with features rather innovative when compared to other tools. When compared with other sanders, it distinguishes itself with all-ball-bearing construction. It basically reduces the noise and the vibration, making it easier to control and more pleasant while working. Another element that will definitely appeal to you is palm grip designed in an ergonomic method, improving the stability and the controls of the tool even more. We cannot forget about very efficient paper installation that is guaranteed thanks to large paper clamps. The users acknowledge this sander for its effectiveness as well as compact size.
Nonetheless, MO4556 model of Makita is not the ideal tool. Despite all its advantages, it generates more dust than collector can gather, especially if we want to sand things quickly. Except for that, the tool is a great machine that will definitely meet requirements of many people.
Another tool worth recommending is WORX WX642 270W 1/3 Sheet Finishing Sander
Very efficient with variable types of wood
The second suggestion on our list is also very interesting product, but it was designed for people, who are seeking for larger sanding radius. Compared to Makita, this particular device covers bigger area, hence can be used for sanding bigger objects with comparable speed and effectiveness. Worx company has decided to surprise us with quite innovative solution regarding dust collection. Thanks to the use of bag-less technology, we do not need to worry about air suction, because there are no bags! What's more, The Worx provided us with aluminium base that has two roles. First of all, it improves the durability of the tool, making it robust and effective for at least three years. Secondly, it gives you better sanding precision. Another element that occurs to be crucial for increased effectiveness is variable sanding speed. As a result, we can move high debris with no problems at all.
The problem occurring in this model is the price of the sanding sheets. They are quite pricy for the tool itself.
The third tool we wish to recommend is Ryobi ESS200RS 1/3 Sheet Sander, 200 W
Issues with dust collector
This particular sanding machine is less expensive than the two described above. However, it is still powerful and very demanding sander, since it uses very interesting technologies. One of the few devices it was installed with cyclonic action feature, which in theory should keep the dust in one place. However, the system performs poorly in some cases. What's more, the producers from Ryobi Company has added very user friendly sanding sheet attachment. For the people, who like additional features, Ryobi introduces livetool indicator, which indicates whether the sander is connected to power supply or not. Last but not least feature is the system that reduces vibration. Thanks to that we are capable of sanding surfaces with greater control. From the customers' opinion, we can see that the tool is also very light and doesn't cause any troubles while using. Although, some people complained about weird sensation in hands when Ryobi was used for too long.
The cost of ESS200RS is a bit cheaper when compared to two previous sanders. However, the problems with dust collector can make this offer less interesting.
BLACK+DECKER KS300 240 V 1/3rd Sheet Sander, 135 W – the fourth recommendation on our list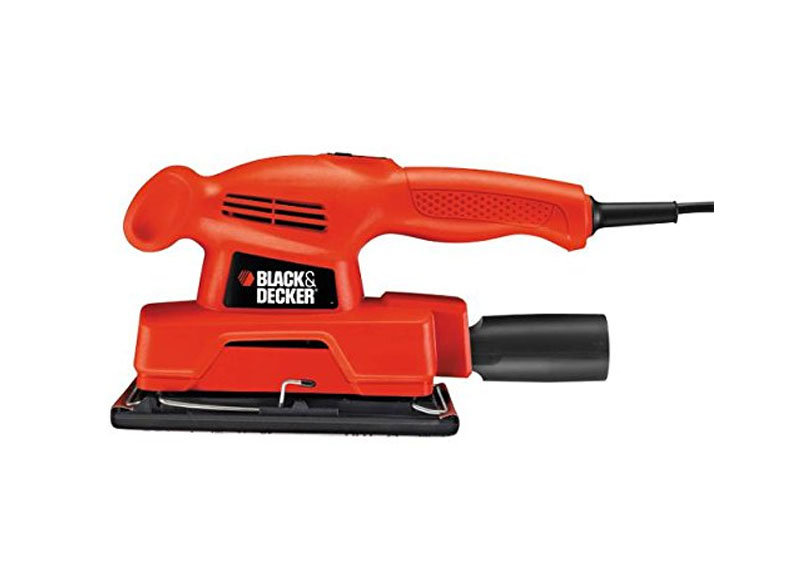 Very good choice for versatile sanding
Solid grips and handlings
Two speed for metal transmission
Problems with paper clips
When looking for cheap, light sander, then Black+ Decker should be interesting choice for us all. It provides us with two handles for maximized comfort and sanding control as well as greater stability, since front handle is finished with ergonomic touch. Thanks to the introduction of these handles, it is ideal for sanding versatile surfaces, including walls and doors. Except for that, this model has also dust extraction included. The overall performance of Black Decker is above average, thus it can be used for quick and non-demanding DIY works. Nevertheless, if we are looking for a tool that can guarantee pleasing experience while sanding without any issues, we should look for something else. Why? Even though it is very interesting offer for its low price and good performance, the paper clips will slowly lose their strength and after a while they will have to be replaced.
For the that price, it is great solution. The tool itself works fine, but its additions can cause some problems.
The last sheet sander on our list is the cheapest, yet still effective VonHaus Orbital Compact 1/3 Sheet Sander 150W 230V
Great for light and fast job
Works poorly when used in heavy DIY jobs
This particular product is the cheapest on our list. However, it doesn't change the fact that together with 6 sanding sheets you receive quite powerful sander. VonHaus gives us dust extraction port, which basically keeps all the dust from sanding away. Another element worth mentioning regards reduced vibration, which is guaranteed due to the access to ergonomic design with soft handle that improves gripping. Thanks to that we have better control over the process of sanding. Except for that, we cannot forget about two-year warranty, which basically gives us the approximate lifetime of the tool. Yes, it could last longer than two years, but we cannot forget about the fact that if we make sure to use the tool properly, it may even outlive its warranty.
We shouldn't pay much attention to drawbacks, which such issues like poor performance against heavy DIY work. It is advised to use it only for the light work and for short-term sanding.
How to find the best Orbital Sander on the market?
If you want to know which Sander is the best, you should carefully read the following description. In order to find the tool that will succeed in every task we imagine, it is essential to have a look at the following aspects: the power of sander, the functionality, the price, the size and weight, as well as durability and opinions of others. Once we find the product that fills the expectations of all elements above, we can say our purchase is successful.
The power – how does it impact the sander?
As it may be easy to imagine, the power of sander is responsible for the overall performance. There are variety of sanders available on the market. Some of them are more powerful than others, what basically means they need more energy to work. As a result they are more expensive in maintenance, but we can work with more demanding types of wood. It is very important to look for the accurate power if our sanding will be more demanding than just focusing on a table.
Functionality of the sander
Another very important factor that has equal impact on the performance of the sander as the power, is functionality. It basically provides us with more sophisticated options like the choice of speed (for different types of wood), or the application of more advanced method of dust collecting. The latter is also quite crucial unless we like to get everything around us messy. Without proper dust collector, we will be forced to clean up huge stock of dirt once we are done.
People seem to find this particular element as the most important part while looking for sander. Yes, it matters how much we pay for the product (we can even show you that the price range on our suggestion list starts from £15 and ends on almost £50). However, we cannot choose our tool based on that one particular elements simply because the higher price, the better tool we receive. Despite the fact we recommend all five tools, it is more than visible than the first one, the so-called winner of our suggestion list, is much better in overall performance, than the last one.
The size and weight of sander
Compact size with soft and comfortable grip is also essential, since the comfort of holding the sander equals comfort of the work. That is why if we want to have better experience from using the tool, it is recommended to look for nice and comfort grip. As for size and weight, we should distinguish here two types of works. The type, where we need to sand large area, and the type with plenty of corners. If we seek the tool for the former, then we should be more interested in large, rather heavy orbital sanders, since they cover more area. If, however, we are looking a tool for the second one, then having small and light sander is a way to go.
The best way to assess whether the tool is robust and will hold many heavy jobs is by the guarantee of the producer. If we see long-lasting guarantee, then we have some kind of assurance that the tool will work for longer period. If not, we can always send it back for the guarantee. Except for that, we should also pay attention to the material of which the tool was made. If we can see aluminium elements in the base of the structure, then we can hope for higher durability. Except for that, base made of aluminium guarantees better performance at some types of wood. Therefore, that's one more way to test whether the tool is durable and at the same time effective.
Probably the best way of making sure the tool we have chosen is the best. If the product of our choice has more than 200 reviews and 90% of them are positive and they are legitimate, then we should reflect no longer and purchase it. Of course after we make sure the given product will fit the role, because some of the reviewers forget that £14.99 compact sheet sander is not going to work as efficient as the huge, more expensive one, especially when we have to deal with heavier and longer job.
Conclusion – how to choose the best sander on the market in 2023?
The answer on this question is simple – name your goals, see what exact features you are looking, and make sure to find very popular and very respectable sander that fits them all. The list of five presented above is just a hint how to look for legitimate product and we really hope that thanks to that your choice will be well-considered and not random at all.