How to pick the best wood router in the world? Here is a quick guide and the set of palm router reviews 2023 !
Choosing the appropriate machine for our woodworking is quite a demanding task. We need to remember about a lot of different parameters and, obviously, the technicalities that make the specific product efficient. In theory, every router should allow us to prepare decent trimming.
Still, we need to know which ones to pick for the more demanding work. It is incredibly important, especially when we want to purchase a small and compact product in order to use it with only one hand. In this situation, we have to remember about many other things. That is the reason why we prepared a list of handy products.
As you can guess, they surprise us with a small size, yet powerful engine and versatility. Though these traits are so needed when it comes to buying small wood router products, we also had in mind functionality, precision, and above all – comfort of use.
KATSU Tools Electric Wood Hand Trimmer Laminator  220V
Incredibly advanced regulations
When thinking about a tool that will surprise us with its comfortable use, we most often think about devices that are incredibly light. However, even the ones that are slightly heavier can surprise us with their functionalities and versatility. This is what KATSU Tools prepared for us.
The brand guarantees a very powerful product that was made of aluminum. As a result, we receive here a robust device that is capable of working at many different woodworking projects. In terms of parameters, the motor offers us 710 W of power, which is more than enough to trim and carve in any wooden surface.
Interestingly, there are plenty of additions that make the product an attractive option. We mean here three different bases that we can change, two chucks collets of different size we can adjust for the precise works, and obviously a lot of features we can adjust.
The product also guarantees adjustables and regulations. Variable speed guarantees high precision of work and the possibility to adjust the speed of the work to the project. All of it is; however, quite expensive, since it is one of the priciest options available on the market
Makita RT0700CX4 240 V Router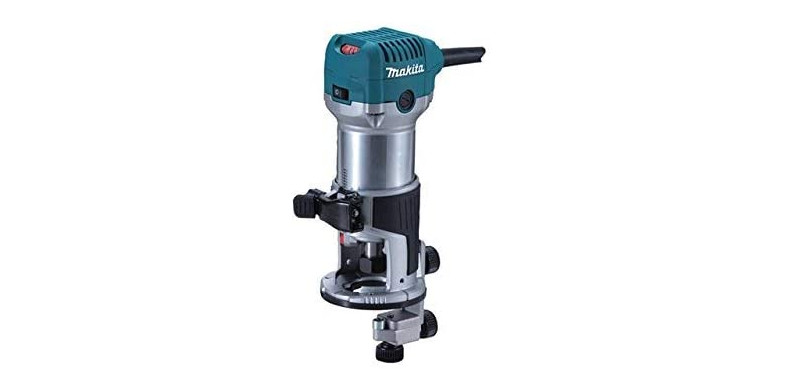 Soft start feature that enhances durability
Robust and lightweight design
Can be used with only one hand
A lot of regulatory options
This is yet another example of how powerful and functional the product made by a renown company can really be. This option guarantees a very strong motor that is not only robust and resistant to high temperatures. It also provides us with highly precise cutting.
The Model RT0700CX4 is equipped with all the necessary features and options that make the product highly functional and ready for many different types of surfaces and projects. We can, for example, change the speed and adjust it to our own likings in order to either perform very precise cuts or speed up the woodworking process.
Besides that, there is also a very large adjustment of depth, thanks to which we can work on a variety of items without worrying about not sufficient technical capabilities. Obviously, let's also remember about the fact that the product guarantees an ergonomic grip and a very smart design thanks to which it is possible to use the product with only one hand. There is also an additional number of bases, if we are willing to pay extra. The durability of the product is enhanced due to the soft start feature.
High maximum no-load speed
Can be used with one hand
Basic features at our disposal
This particular option can boast with a universal access to two collets that are quite popular nowadays. Obviously, the product is very powerful and light, so it makes VonHaus a gret, small hand router you can currently use.
Just like previously described items, this particular router is prepared for either wood or laminate flooring. Its trimmer base allows us to successfully work at finishing edges and cutting precise shapes, creating interesting patterns. Obviously, the product works very well with a single hand due to its compact size and average weight.
There are two different collets that we can choose, namely 1/4″ and 3/8″. It means that we don't have to worry about damaging the material we are working on. It also keeps the performance of the product.
The no-load speed of the product is surprisingly very nice and it peaks at 32,000 RPM. The regulations allow us to change it in the scope of 10,000 up to 32,000 revolutions per minute. Still, it is quite a standard product without any significant regulatory options.
Merry Tools Electric Hand Wood Router
Pretty good no load speed
The brand offers us incredibly easy to use product that comes with two different collets to choose from. Though its power is rather low, it still guarantee pretty good no load speed of 28,000 RPM. Obviously, the product is convenient in use, and its pretty low weight makes the product very attractive alternative, especially if we are to work at DIY projects.
This small wood router guarantees decent performance considering its power and high no load speed. Thanks to that, we can work in sufficient conditions to perform all the tasks in the given time.
Obviously, for such a low price we can't expect even simple regulatory options like, for example, the possibility to adjust the no load speed. Still, there is a quick release cam lock system. What is more, the design is slim and ergonomic, and therefore the product is easy to use.
Morgan's Power 710W Electric Hand Trimmer Palm Router
Two collets to choose from
High maximum no load speed
Powerful motor, ergonomic design, and the possibility to adjust the depth and change bits easily makes Morgan's Power great solution that can be used as an alternative even for semi-professionals.
The product guarantees a wide range of applications because of its set of accessories. We receive here two collets, namely 1/4″ and 3/8″. Obviously, we also get wrenches and many other interesting components thanks to which it is an ideal option for those who require universal access and want to use it on many different surfaces.
Morgan's Power is great, especially if we take into account its power and efficiency. Thanks to a 710 W power motor, we can obtain up to 30,000 RPM. Obviously, there is a possibility to regulate the no load speed. Thanks to that, we can freely adjust the work speed and set the ideal parameters for a particular task.
There are all the necessary facilities that keep the use of the product as easy as it can get, namely dust extraction facility, spindle, lock, lock-on switch, and depth adjustments. However, we need to remember about its quite high price.
What should we pay attention to while choosing the best small hand router?
Woodworking requires precise tools that offer us the possibility to carve even the finest changes that influence the final look. For this reason, no one should be surprised with the number of different routers available on the market. Interestingly, there is no one perfect device that will suit expectations of all people. This is the reason why we have to set our own expectations, so the final choice will suit us in every possible way.
If we look at the palm router reviews presented above, you can clearly see that there are plenty of parameters we should consider. We mean here the power of the motor as well as the no-load speed. Besides that, we should also remember about the cutting parameters as well as the size of the collets.
When choosing a palm router, the most important thing is its compact size and the possibility to use it with one hand only. This is yet another thing that seems crucial no matter how strong we feel. Obviously, it is also a good idea to familiarize yourself with this article: https://bettertoolz.com/a-helpful-wood-router-buying-guide/
Let's remember about the power of the tool
When choosing the appropriate machine, we always should consider its power. Usually power tools of this kind offer us electric motors with a power that ranges from 500 up to 1000 W. Obviously, the stronger the device, the better. However, how does it influence the final outcome?
First of all, we should remember about the fact that more powerful products are there to guarantee better durability. It means that even at longer projects our palm router shouldn't overheat and break down.
Obviously, the reliability of the product is also influenced by many other aspects. Still, the more powerful product we opt for, the higher probability that it won't slow down even while trimming the thickest wooden materials we choose.
Morgan's Power 710W
VonHaus 710W Palm Router
No load speed and how it influences the work efficiency
The speed of your router is quite crucial, especially if we wish to use specialized bits. There are plenty of different tasks we can perform while trimming and carving, and that is why we should be able to choose the speed that is appropriate for the surface.
Obviously, we also need to remember the fact that the maximum speed guarantees a much faster woodworking process if we know how to use such speed. Additionally, denser materials and very hard wood require a different speed than soft surfaces.
When picking palm router, remember about comfort of use
Palm routers have one significant advantage over standard trim routers or cordless devices, and it is their compact size and special design. It allows us to work with the use of one hand. As you can guess, it reduces the overall fatigue and provides us with much better clearance.
Obviously, not every single router of this kind can guarantee a satisfactory comfort of use. It all depends on the size of the device as well as its weight. This is the reason why we should always keep an eye on these two parameters.
Another way of verifying the comfort of the product is the coating of the handle. If it is covered with rubber or any other material that is there to reduce vibrations, we can hope for even greater comfort since we won't even feel the power of the product.
Makita RT0700CX4 240 V Router
KATSU Tools Electric Wood Hand Trimmer Laminator 220V
Adjustables and regulatory features
The possibility to adjust the depth of a trim or a carve is quite crucial. It allows us to use the product in a lot of ways, and not just a single one. It is also one of the most important things to consider when thinking about versatility.
Every single device we think about should guarantee variable speed control to choose the right rotations for the type of wood and the surface. In addition to that, we should also look for a soft start function, which basically keeps the motor safe from breaking down too early.
Also, there are many facilitations that make the product intuitive in use, such as the installation of dust extraction system, lock-on switch, parallel fence, and the possibility to use at least two different collet sizes.
Summary and conclusion – best palm router 2023
If we draw our attention to all these things, we can hope for a product that is prepared for many different tasks. Woodworking process will become a very easy thing to do, even if you just start the journey of DIY wood trimming. Still, we encourage you to learn more about the parameters and all technicalities that regard the right purchase of a palm router.
If you don't want to spend all your free time on learning that, you can simply check KATSU Tools Electric Wood Hand Trimmer Laminator  220V, which is the winner of today's ranking 2023. It guarantees everything we need. A lot of features and high power is packed in a durable casing – a perfect option for most of us.