What is the best garden multitool you can currently afford? See the best garden multi tool review and the buying guide!
Multitools that are designed to be as universal as they can become. It means that if we decide on a particular multitool, then we can safely say it can be used in a wide range of activities in our garden. This is one of the main reasons why people seem to resign from using saws, incisors, trimmers, and other brush cutters. Obviously, to make sure it works just like we want, we have to look at the best garden multitool we can possibly afford.
Sadly, picking the right device is not as easy as it may seem. We need to consider a number of different aspects, remember about diverse parameters and, also, make sure to choose an option that will suit us in terms of comfort and the price range. Let's not forget about warranty, quality of finishing, and accessories. As you can see, there are quite a lot of things to consider.
Luckily for you, we present you the best garden multi tool review you can at this moment find. Our specialists took into account the most important elements, which make up for the quality and attractiveness of the garden multi tool. Obviously, we had in mind the power of the device, its tank capacity as well as engine displacement, and obviously, the universality. We did not forget about the accessories and comfort-related features.
The most attractive and most universal multi use garden tool you can buy this year is surely Dealourus 5 in 1 Multi Function Garden Tool
Pros
• The best garden multi tool in terms of versatility; • Very sturdy finish; • Powerful engine; • Great cutting parameters.
Cons
• Quite heavy; • Difficult to get spare parts.
If you look for a product that guarantees a huge range of possible uses and at the same time is quite powerful for its price, then you couldn't pick better than Dealourus. This fuel powered 2 stroke and air-forced cooled multi tool allows us to pick one of five different uses, making it the most versatile option available on the market at this moment.
The manufacturer offers us a quite powerful device with 3 horsepower from a 52 cc engine. Such a large power was capable of receiving thanks to the introduction of the latest technology. In terms of other parameters, the option offers automatic transmission, which improves the use of the product. There is even a primer bulb that eases the starting process. As far as the safety is concerned, the authors introduced a throttle switch.
This particular multi use garden tool is such an outstanding offer mainly because of its cutting parameters and versatility. We can use it as a long-reach hedge trimmer that has a hardened-steel double edged blade. Besides that, we can also enjoy a long reach chainsaw, pruning saw, a strimmer or a brush cutter. Sadly, because of its sturdy finishing, it is quite heavy. What is more, it is difficult to find spare parts in the event of damage.
An alternative that can also be considered as the best garden multi tool for some is Einhell Cordless Multifunctional Tool GE-HC
Pros
• High quality finishing; • Cordless work – very comfortable; • A lot of adjustments and regulations; • Battery included in the package. 
Cons
• Only 2 possible applications; • Battery included in the package is very small.
If we are fed up with combustion engines that produce huge noise, then you might be better off purchasing a multifunctional garden tool that is powered by batteries. Due to its cordless nature, it is much more comfortable in use and does not produce such a large noise. This particular option surprises us with a rather powerful engine for an electric tool. The option offers us 2-in1 device that can be used as either a hedge trimmer or a device to cut branches high above the ground.
One of the most important things as far as this option is concerned is the possibility to adjust the settings of the tool in almost a perfect way. There are many regulations that can be used just to make sure we work at the right angle in a safe and efficient way. For example, we can tilt the motor head in seven different degrees or use a 90 degrees swivelling attachment thanks to which it is possible to make horizontal cuts. The handle itself can also be regulated.
Another important thing, especially in the case of cordless tools, the product comes with a battery. However, it is only 2.5 Ah in terms of capacity, and as a result, it doesn't provide us with a long working time. Still, the quality of finishing is quite good and will withstand the trial of time.
If you think about hyundai multi tool review, then you can surely expect the highest quality finish and durability from Hyundai HYBC5200X Petrol 2 in One Multi-Functional
Pros
• Powerful motor; • Great reliability; • 3-year warranty; • Pretty large cutting adjustments.
Cons
• Relatively heavy; • Very noisy.
HYBC5200X is a model that offers us a number of different features and functionalities, and as a result is a quite handy and useful tool in the garden. This can be used as either a brush cutter, grass trimmer, or simply a strimmer. Just like the winner of the ranking, the offer is powered by gasoline. Though it is quite noisy at times, it gets the job done without any troubles whatsoever.
The option is one of the most reliable options you can currently buy as a result of the introduction of a simple, yet powerful engine. Its 52 cc 2 stroke motor is capable of providing us with more than enough power to all the gardening works we wish to do. Obviously, we need to remember that the authors included a number of different safety features that prolong the life of the motor like, for example, the soft start function. Another thing that can be considered as an advantage and the proof of reliability is warranty time – contrary to the competition, it doesn't offer 1 or 2-year warranty. The product comes with 3 years of protection time.
Another thing we should mention concerns the cutting area. It is between 255 and 450 mm, and because of that we are capable of cutting pretty large areas with ease and pretty quickly. The comfort of use is not the highest – it weighs more than 9 kilograms, which is less than the winner, but still considerably more than other options included in the ranking 2023.
If the hyundai multi tool review did not satisfy your needs, STANLEY STR-4IN1A 4 in 1 might do just that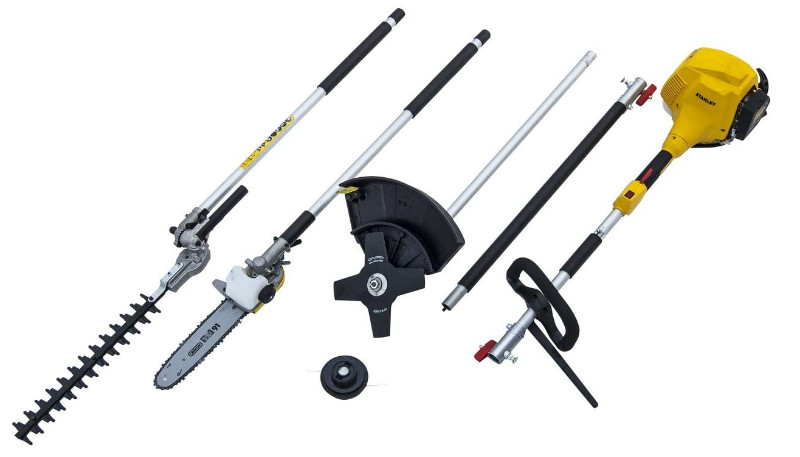 Pros
• Very small fuel consumption; • Lightweight; • A lot of accessories included in the kit; • Quite advanced regulations and easy in use.
Cons
• Relatively small power; • Hard to assemble because of poorly written instructions.
This is yet another device that is fuel-powered and has 2 strokes. However, its displacement is considerably lower and, as a result, guarantees much smaller fuel consumption, which makes it a more economical option than two previously presented petrol-fueled devices. Sadly, because of that, we can expect slightly worse performance.
The product comes from a legitimate and renowned producer, which is Stanley. It is a 4-in-1 type of multi tool and, because of that, we have many different applications because of easy to change attachments. Thanks to that, we can use it for line cutting, brush cutting, pruning, or simply hedge cutting. The design of a shaft makes it very easy to change the heads.
One of the positive things about this product is that it comes with many different accessories. We can use a lawn trimmer, a brush cutter, a chainsaw, or a pole hedge trimmer – all these accessories offer us above-average cutting parameters. Besides that, the D handle design makes the tool comfortable in use, especially when combined with its small weight.
Last but surely not least interesting option comes from Mitox 28MT-a Select 5-in-1 
Pros
• A number of accessorial heads in the kit; • Great economy; • One of the lightest gasoline multi tools on the market; • 3 years of warranty.
Cons
Not suitable for more demanding work.
If we think about purchasing a fuel powered device for many gardening tasks but at the same time we wish to find the most comfortable product to use, we should think about Mitox. The 28MT is a particularly interesting offer because it has small weight and half of the size of the winner's engine, which translates into better economy and very low fuel consumption.
The engine installed in this particular option is very small because its displacement is 25.4 cc. As a result, it takes a very small amount of fuel in order to be working. Obviously, the downside of such a solution is lesser power. Nevertheless, it works brilliantly at almost every task we wish to perform and, because of that, the reduction of power is not as important as a better economy.
Another advantage of such a small engine is its very low weight. For a gasoline engine, this gardening multi tool offers the best comfort out of them all. With only 6 kg of weight, it allows people to work smoothly for quite a long period of time without witnessing any exhaustion or fatigue whatsoever. Let's also remember about another advantage, which is the possibility to change heads and use this tool as grass and hedge trimmers, pruners, brush cutters, or simply as an extension.
What seems to be the most important thing as far as picking the right garden multitool is concerned? Here is a purchasing guide
Five products presented up above can boast with great parameters and most users will definitely find them quite interesting to get. Nonetheless, we cannot forget about one particular thing, which is the expectations. As we all know, people have different needs and requirements. As a result, a product that would suit most will not be perfect for a margin of people. That is the reason why everyone who is interested in purchasing a garden multi tool should be able to find a perfect product on their own.
The first and probably most important thing to consider is the power of the tool. It all depends whether we are dealing with an electric powered device or the one that is powered by fuel. Once we take care of the engine, we have to remember about the reason why you look for a multi tool for your gardening activities – versatility.
Once we have these two elements covered, the time has come for functionalities. We just need to make sure that the product is easy to use and, what is even more important in the case of these machines, easy to assemble. Comfort of use, which is once again quite an important factor to consider, applies not only to the weight of the tool, but also other comfort-related features and options. More information can be also found here: https://www.gardenersworld.com/reviews/tools/power-tools/cordless-multi-tools-buyers-guide
The first thing to consider is the motor of the tool
There are dozens of different tasks that one can perform in the garden. Sometimes we just need to trim a few bushes. In other cases we have to cut thick branches and work for quite a long time. That is why it is essential to pick a product that has a powerful engine – whether it is a combustion or electric one.
In the case of gasoline-fueled motors, we should be looking at displacement, which is the maximum volume of the mixture of air and fuel. If the numbers are high, we can hope for a powerful engine because the higher the displacement, the higher probability of having more than 2.5 HP (horsepower).
In terms of electric gardening multi tools, we need to remember about different parameters. For example, we are not going to look at horsepower. In this case, we should be looking at wattage. The more wattage the product has, the more power it provides. However, we should remember about battery drainage that will be substantial in the case of much more powerful products.
Dealourus 5 in 1 Multi Function Garden Tool
STANLEY STR-4IN1A 4 in 1
Obviously, remember about the versatility
The purchase of multi tools for gardening purposes has one particular goal, and it is to have one product for many different tasks. That is why we have to make sure that the device we pick is as universal as it can be. One of the easiest things we can do to achieve that is purchasing a tool that has easy to remove heads.
We mean here attachments that can be adjusted to the type of work you are going to do. There are special heads that can be used for line cutting or brush cutting. Some others are designed for hedge cutting or simply cutting large and thick branches. It all depends on our requirements. If, for example, you are going to work on many different projects, then you better pick a 4 in 1 option or even better – a 5 in 1 multi tool!
Pay attention to durability
If you wish to make a purchase for a longer period of time than a year or two, then you have to remember about the material used for the production of the product as well as several other factors that influence the final durability of the product. One of these elements is the warranty time. Usually, the producers offer 1 or 2-year warranty. However, sometimes renowned brands offer warranty for the period of 3 years, which is additional assurance that nothing bad will happen.
Obviously, durability can be also determined by the safety precautions that the product is equipped with. For example, we should be looking at a soft start feature that keeps the engine safe during the first seconds of launch. Another thing to consider is overheat protection that simply shuts down the device when the temperature is too high.
Hyundai HYBC5200X Petrol 2 in One
Don't forget about comfort of use
Functionality is one thing, but we cannot forget about aspects that make the product comfortable in use. One of the most basic things is, obviously, a weight. The heavier the product, the less comfortable it will be during longer use. When it comes to values, we should be looking at everything that weighs less than 8 kilos.
Obviously, combustion engines are much heavier than devices with electric motors. Nonetheless, we should find a compromise between the power and efficiency, and the comfort.
Einhell Cordless Multifunctional Tool GE-HC
Let's not forget about the fact that sometimes it is possible to find a fuel-powered tool that is relatively light due to the introduction of a much smaller engine that has twice as small engine displacement as some other products.
Comfort features go beyond the weight, because it is very easy to find a gigantic number of tools that have versatile adjustment possibilities. We can, for example, tilt the motor head or even apply 90 degrees swivelling attachment. let's not forget about the possibility to set handles the way we want.
Opinions of others and price in 2023
Positive feedback is of utmost importance and everyone will tell you that. Still, we cannot forget about the subjectivity of opinions and comments that other users leave. Therefore, we should take them with a grain of salt, but at the same time keep in mind the users' experience regarding the particular model.
Another thing to consider is the price. As it befits multifunctional gardening tools, they are a bit more expensive than gear that is adapted for one purpose only. However, if we were to purchase five different products rather than one garden multitool, then we might see the difference at the advantage of the latter. Still, let's remember about quality to price ratio and make sure that we pick the best option when we consider a number of factors mentioned earlier on.
Mitox 28MT-a Select 5-in-1
Summary and conclusion – best garden multitool in UK 2023
Dealourus 5 in 1 Multi Function Garden Tool is surely one of the best options if we wish to buy a highly versatile device. This piece of equipment allows us to work in a very efficient way and because of its functions, it is quite easy and problem free. Let's also remember about durable design as well as many positive opinions left by satisfied customers.
If you seek a lighter option or you simply need an even longer warranty from the manufacturer, then do not waste any more of your precious time. Look at the alternatives or, if you want, read the following article to see all the tips and advice that have to be taken into account while searching for an ideal product.